For those of you who are looking for some extra income, there are several options you may want to consider. Options in the job market are very little for those of us who are senior citizens. This also applies to those who are housewives or stay-at-home mums who are looking for work that is more flexible and which they can do from home.
But guess what? Today's world has changed tremendously.
New factors to consider if you want to earn extra income from home.
1. The world is now my market place and no longer just my local neighbourhood.
2. Social media is such a widespread phenomena that I have friends from all over the world at a touch of a keyboard.
3. Due to economic slow down all over the world many are laid off work, companies are cutting down their work force and so more people are looking to earn extra money working from home.
Affiliate Marketing
Presently I earn some extra income from affiliate marketing. I find that Amazon is great to work with and very reliable with their payments too. I am also an affiliate with Shareasale. In affiliate marketing you need to write up on the products in order to earn any affiliate commission. You can do that on Blogger or Wordpress.
If you don't like to write articles create extra income at Usana.
Don't switch me off yet!!!
Before you dismiss this as another of those easy to get rich scheme which you hate, just read on a bit more. I admit there are a few (ok, more than a few!) bad apples who have abused this business model until it makes you want to puke just thinking about it.
No matter what you may have thought of it before, look at it from a different perspective.
A Very Good Business Model
1. For anyone who is tired of working for someone else and yearn to be their own boss
2. For those who are getting laid off in these bad times
3. For those who are not able to work at a full time job either because of health reasons or physical disability
4. For those retired or about to retire but still need some source of income
5. For the stay at home mums and stay at home dads
6. For those who want to supplement their income with part time income
7. For those living in small towns or remote areas where the local population is small
I look at it this way. I open up a store for just US$29.95 and every month I spend $100 worth of products to keep the store open, changing the brand I normally use to the Usana brand. When everyone in my organisation does the same, then I start to earn some extra income. It may not be much initially, nothing much to shout about but over the years it can grow.
After all it is a passive income, not dependent on my own generated sales alone. What makes it such a powerful income generator today is because of the way technology has changed how we do things.
BUILD A BUSINESS WHERE THE WORLD IS YOUR MARKET PLACE.
MAKE CONNECTIONS THROUGH SOCIAL MEDIA AND YOU CAN SIGN UP ANYONE
FROM THE 18 COUNTRIES USANA HAS AN OFFICE, PEOPLE YOU KNOW THROUGH
THE WORLDWIDE WEB. THERE MUST BE MANY WHO ARE JUST LIKE ME AND YOU
WHO WANT TO EARN JUST A LITTLE BIT EXTRA INCOME

.
POSSIBLE WITH USANA'S SEAMLESS GLOBAL PLAN
What is there to lose? So why not give it a try and see where this takes you. You only spend US$29.95 on the enrolment fee. Choose the products you and your family can use. You can even sell some of it if you find you use so much and make a marginal profit.
Top 5 reasons to join Usana now
1. Established US based company for more than 20 years in 18 countries.
2. Commission structure allows for friends from 18 countries to join your team - not just your local neighbourhood.
3. Connection with friends through social media like Facebook, Skype, Whatsapp, etc means you are in contact with people from all over the world even as you sit at home.
4. Usana's online system allows easy enrolment of your business partners from any of the 18 countries where it has a local office.
5. Products are couriered to your customers from the local office.
6 Your commission is paid weekly in your local currency and deposited in your local bank.
The Founder - Dr Myron Wentz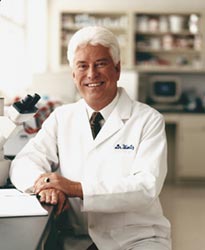 Dr Myron Wentz, is an internationally known microbiologist and immunologist for his work in human cell culture and infectious diseases. In 2007 he was awarded the Albert Einstein Award For Outstanding Achievement in the Life Sciences.